Are your brakes producing so much brake dust that it tarnishes the look of your car?
Get the best Singapore Ceramic Brake Pads here at Mobile Car Fix Singapore! The car wash at the start of the week seems useless when the rims are covered with brake dust in 2 or 3 days. These are issues that we as car owners face, especially for cars of continental make. Brakes are crucial in our daily drive and it should never be compromised in any way.
Right now, we are the distributor of OEM ceramic brake pads for Mercedes cars and in time to come, we will also bring in brake pads for other car makes. We have fitted these brake pads on several new model 2014 onwards Mercedes C class (W205) and we are confident of its quality after receiving their positive feedback.
These brake pads are designed in Germany and are widely used in USA, China, South Korea and Dubai. It is tested and proven to have equivalent or more braking power as compared to original Mercedes brake pads and best of all, we are able to reduce the brake dust by more than 50%, allowing your rims to stay clean and look fresh much longer.
Our low dust ceramic brake pads are able to last up to 30,000km before the next change is required. Since brake pads are labelled as wear and tear items, there will be no effect on the warranty of your vehicle with the dealer.
Original Mercedes Brake Pads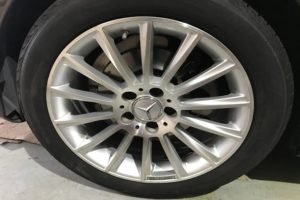 After 1 full tank of travelling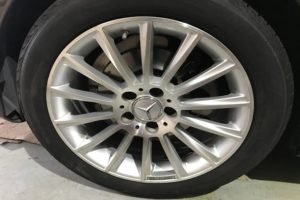 After 1 full tank of travelling
The difference is significant!
Our whole set of brake pads (front and rear) are reasonably priced from $350 (inclusive of installation).
Original brake pad wear and tear indicator would be used if needed at $50/set.
Bring out that shine in your rims once more without any compromise in your braking power. All our brake pads come with a standard 3 months warranty for any premature wearing or disintegration of ceramic material. Wait no further. Call us to arrange for an appointment today.